Agate Montana
Agate Montana - can be used to stimulate your crown chakra, while providing grounding to the earth plane. It clears and energizes all your chakras, and can be used to cleanse and activate other minerals.

Amethyst
Amethyst - is a variety of quartz and has a deep purple color. Amethyst activates spiritual awareness, opens intuition and enhances psychic abilities. Amethyst is a "stone of spirituality and contentment", and has strong healing and cleansing powers. It is a natural tranquilizer and deepens meditation.
Disclaimer: Some stones are known to change color over time. This can happen after a long exposure to the sun; we advise you not to expose the stone under the sun for a long period of time. The other reason that a stone can fade or change color is after intense usage of it's energetic properties. When you use the stone for a specific issue, it's possible that the stone has done its job and that both you and the stone are ready to move to the next phase in life. We suggest to offer the stone to the elements (ocean, sea, river, under the ground).
Amethyst Pink / Lavender


Amethyst Pink / Lavender - has a unique combination of color, transparency, and beauty. Pink is the color of the heart - everything that has to do with love, soothing feelings, and kindness. Amethyst is a spiritual healing stone, and Pink Amethyst opens the spiritual heart to cultivate your feelings of compassion, deepens relationships with friends and lovers, attracting Soul like connections. Pink Amethyst encourages you to express yourself and be open to others, promotes unconditional love and compassion. It heals old and new trauma, from this lifetime and past lives, heals and releases the inner child.
Amethyst Trapiche
Amethyst Trapiche
- Due to the unique crystal formation, Amethyst Trapiche can enhance your brain activity, increase concentration, and energize the person that wears it. Trapiche amethyst can also enhance psychic abilities and is excellent for channeling energy during meditation.
Ametrine
Ametrine - is a mixture of citrine and amethyst. This lovely stone embodies the energy of both Amethyst and Citrine; to enhance your mental and spiritual clarity, while uniting masculine and feminine energies. Citrine enhances the 'will' of your Solar Plexus, combined with the "knowing" from the Crown Chakra via the Amethyst; result in a very powerful energetic vibration. This connection will aid you to bring your thinking from the physical day to day realm, into the spiritual realm.
Disclaimer: Some stones are known to change color over time. This can happen after a long exposure to the sun; we advise you not to expose the stone under the sun for a long period of time. The other reason that a stone can fade or change colour is after intense usage of it's energetic properties. When you use the stone for a specific issue, it's possible that the stone has done its job and that both you and the stone are ready to move to the next phase in life. We suggest to offer the stone to the elements (ocean, sea, river, under the ground)
Azurite - Malachite - Chrysocolla
Azurite - Malachite - Chrysocolla - is a combination of three minerals that can help you reach out to others, and encourages you to express your inner wisdom. These 3 minerals together discharge dense energies, calm the mind, and allows truth and inner wisdom to surface and be heard.
Azurite - Malachite
Azurite - Malachite - is often found naturally mixed together; as a team they resemble Mother Earth and have a powerful blend of healing energies. It is a powerful conductor of energy; it strengthens your ability to visualize, and opens your third eye. At an emotional level it brings deep healing; it facilitates entering a meditative and channeling state and expands the mind.

Astrophyllite
Astrophyllite - crystallizes as bladed crystals in star-shaped groups; itis a stone of self-knowledge and self-acceptance and promotes a feeling of wellbeing. This crystal aids you to truly love yourself, and recognize that you have no limitations. It helps you to reach and align with your soul's purpose. It brings fidelity, honesty between partners by activating a soul-connection that allows the partners to "see into" the other's soul.
Aragonite
Aragonite - 
is a stabilizing stone which centers and grounds physical energies; a very useful stone to use during difficult  times, it provides calming and centering energies to you. Aragonite helps you to prepare for meditation, and provides insight into the causes of problems and situations. It teaches acceptance and patience; especially helpful to those who feel they have too much responsibility.
Archeological Roman Glass
Archeological Roman Glass - beads come from findings from the Silk Trade in Afghanistan. This is an ancient glass, discovered in Mediterranean countries and others at time of the Roman Empire (1200 to 1700 before). The iridescent colors have evolved gradually over the centuries as a part of "Chemical reaction" of the glass from the underground where it was buried.
Apophyllite
Apophyllite - is found worldwide in volcanic zeolite environments; it is a powerful vibrational transmitter and creates a conscious connection between your physical and the spiritual realms. Apophyllite can assist you in working with Guardian Angels, Spirit Guides and manifestations of the Higher Self. It is an effective stress reducer, releasing mental blockages and negative thought patterns; it enhances spiritual vision and opens your third eye. It is an excellent crystal to place under the pillow during sleep for lucid dreaming and astral travel.
Amber Blue
Amber Blue - is a fossilized resin and is found in the Baltic area as well as  in Indonesia. Amber comes from the pre historic leguminous tree Hymenaea Protera; since the Stone Age Amber has been used by many civilizations as a talisman for clearing energies. The frequency of Blue Amber connects to your third and sixth chakra; a purifying energy helping you to clear low vibration energy from your solar plexus, and open your third eye with psychic abilities and inner visions. Physically amber can strengthen you overall  and for  wellbeing.
Apache Gold
Apache Gold - is a combination of Steatite and Pyrite, found in "The Big Hole" in Jerome, Arizona. It is an excellent stone for grounding during meditation, bringing clarity to your "no-mind" state while providing for a protective environment. Apache Gold aligns all your 7 chakras and provides an awareness of the physical and emotional energies.
Andara Crystal
Andara Crystal - is a rare type of Obsidian stone that comes from the Native American Indian land. It is a very special gift from Divine Spirit and the unseen world that holds the energy of unconditional love from the divine feminine. The vibration is so high within the stone that it never needs to be cleansed as it holds only love and does not absorb negativity. Instead it instantly transforms it. For this reason it serves as an amazing tool to heal your heart. It has been cut into the shape of the cube octahedron creating the prefect balance of the male and female energies. This sacred geometric shape opens your heart to experience a sense of oneness and unity with all of life.
Ammonite

Ammonite - is a fossilized animal that became instinct 65 million years ago. Ammonite is a protective stone, giving you stability and structure in your life. It brings you good luck and prosperity.  Since it is associated with the Root Chakra, it encourages your survival instincts and is grounding you to Earth. Ammonite converts dense energy into a gently flowing positive spiral.
Ammolite
Ammolite
- is an opal-like organic gemstone found primarily along the eastern slopes of the Rocky Mountains of North America. It is made of the fossilized shell of Ammonites that became instinct on Earth 65 million years ago. Ammolite is said to radiate positive Earth energy, and to bring you good luck and prosperity; it is an excellent tool for deep meditation. Ammolite converts negative energy into a gently flowing positive spiral. This gemstone brings wealth, health, vitality, and happiness, and it promoting beneficial business dealings.

Auralite

Auralite - is a distinct gemstone that has a very soothing and calming energy. If you need a reprieve from your stressful life, this stone will ease your worry and anxiety, soothe anger and tempers, and help you think before you act. Auralite is a good crystal to bring into your life when you are seeking transformation and is also wonderful for creative endeavors and when you need inspiration.
Agar Wood
Agar Wood
- is a sacred wood that is known as the "Wood of God". This special wood is undoubtly one of the most precious wood in the world and can be as expensive as Gold! Agar wood offers you a deeply calming effect in stressful situations, promotes Chi circulation in order to relieve discomfort, and connects you to the Earth's elements.
Agate

Agate - is a variegated glass of Chalcedony; its name comes from the Achetes River in Sicily, where Agates were first found. Agate provides a balancing of yin-yang energies, and is a wonderful gemstone for balancing the mind, body, and spirit as well as helping you to slow down and center yourself. Agate transforms negative energy into positive energy.  It enhances mental function, improves concentration,  perception and analytical abilities.

Aventurine
Aventurine - is an excellent protector of your heart and heals your emotions; it purifies your mental and growth process, bringing you tranquility and a sense of peace. This beautiful stone is an attractor of luck, which aligns conditions so "opportunity" is inevitable. Wearing Aventurine also absorbs electromagnetic smog and guards against environmental pollution.
Aquamarine
Aquamarine
- is a water element stone, powerful for cleansing your emotional body and opening communication; it is a "stone of courage" and stimulates, activates, and cleanses your throat chakra; it increases sensitivities, and facilitates spiritual awareness. Aquamarine is calming, soothing, and inspires truth, trust and letting go.
Azurite
Azurite - 
has a rich vibrancy of its dark-blue energy that resonates to the exact frequency of the Third-Eye Chakra; it awakens your psychic and intuitive self and provides insight into all areas of your life. It can help you to have mystical experiences, and can open you spiritually to a new understanding of yourself, and how your spirituality affects your life.
Apatite
Apatite - is related to service and to the development of humanitarian pursuits; it enhances creativity and awakens your finer inner self. Apatite is a stone of the future and will bring knowledge to those attuned to it by clearing internal confusion. Apatite is a powerful meditation or psychic awareness tool; it can clear the aura, enable spiritual atonement, and bring on powerful psychic awareness.
Amber
Amber - is a fossilized resin and is found in Russia and in the Baltic region. Amber comes from the pre historic leguminous tree Hymenaea Protera; since the Stone Age Amber has been used by many civilizations as a talisman for clearing energies. Amber allows your body and your emotions to heal itself by absorbing and transmuting dense energy into positive energy. Amber can help you with your manifestations, offers you psychic protection and cools your nerves with a warm energy. Amber is an excellent mineral for soothing the baby's teething process.
Amazonite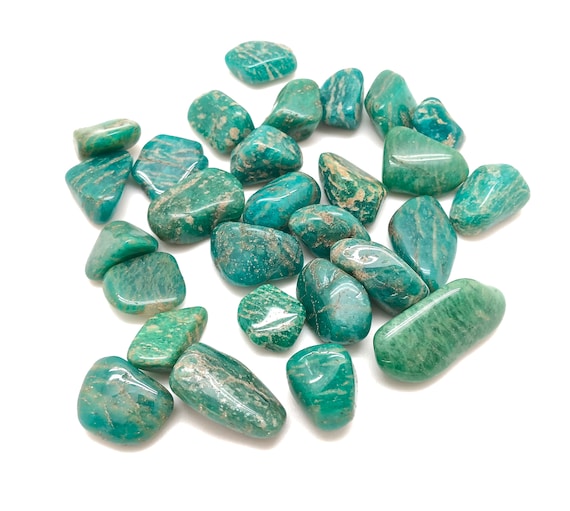 Amazonite
- is a mineral found in Brazil and Russia; it is named after the Amazon River due to its deep turquoise color. Amazonite does wonders for your emotions, transmuting fear and worry into a cool trusting and a deep calmness. It is particularly rejuvenating to your heart and throat chakra, and enhances communication concerning love. It helps you to both manifest and retain the pure energy of universal love.
Bumble Bee
Bumble Bee
- is found inside volcanoes located in Indonesia. It activates Sacral and Solar Plexus chakras, enabling you to accept change, find new opportunities, increase your self-esteem and make decisions without relying on emotions. Bumble Bee  is highly recommended for those who are at a point of closing or ending certain parts of their life and beginning a new.
Brazilian Agate

Brazilian Agate - is known for balancing your physical, mental, emotional and spiritual bodies; it does this by cleansing and stabilizing your "aura". Brazilian Agate improves your strength, courage, calmness and critical thinking ability; it promotes strength, courage, longevity, truth, love, healing and protection.
Blue Topaz
Blue Topaz -
 can clear your throat chakra to consciously and clearly verbalize your desire to manifest. It helps to open your 3
rd
eye, stimulates visualization and attunes to your higher self. It is an excellent stone for meditation.
Bloodstone
Bloodstone - 
grants you the mastery of renewal for your physical, mental and emotional bodies. It is a stone of "courage" and the message from the bloodstone is to "be here now". Bloodstone is an excellent crystal to help you to feel a stronger sense of determination, as they aid you to regain your personal power. Bloodstone also provides you revitalization of love, relationships and friendships.
Black Topaz
Black Topaz - can be used to repel and protect against negativity. It provides for an increase in your physical vitality, emotional stability and mental alertness.
Black Agate
Black Agate - 
(Onyx) is good for transmutation of energies; it helps with the emotion of acceptance, has a stabilizing effect on your mind and helps with physical endurance. Black Agate relieves and removes energy blockages within the emotional and physical body; it's a "stone for peace and healing."
Beryl


Beryl - is a stone that enhances courage, relieves stress and calm the mind. It encourages a positive view, attracts love creating space to enjoy life and living. It clears the mind and cleanses the heart chakra, opening it to receive unconditional love and healing.
Bronzite
Bronzite -
 promotes certainty and control, encourages you to take control over your own actions and enables you to be sure about what it is that you want in your life. This stone helps you to find stillness inside, as it brings you total serenity. Good stone for meditation. Bronzite is used for protection from all sorts of dangers; physical or psychological harm, and evil wishes. Attributed to its iron content, it not only repels but also sends the negative energy back to the sender three-fold!
Blue Agate

Blue Agate - is a variegated glass of Chalcedony; its name comes from the Achetes River in Sicily, where Agates were first found. Agate provides a balancing of yin-yang energies, and aligns your physical, emotional and intellectual bodies. It stabilizes your aura, giving a cleansing effect to smooth dense energies, and to transform and eliminate negativity. Agate has a strengthening effect on your wellbeing.

Buddha
Buddha -
invites a peaceful, calm and contemplative energy. He brings a sense of balance into your life, giving oneself knowledge, compassion, meditation, and wisdom as a symbol of enlightenment.
Brandberg
Brandberg Crystals - 
come from Damaraland in Namibia, considered a mystical area. They can have inclusions of Smokey, Amethyst, or Hematite and is considered to be a wonderful tool in finding harmony and balance, amplifying energy. It is considered a powerful meditation stone; their formations vary from 'phantoms' representing a spirit guide, and some contain 'water bubbles' bringing properties for cleansing and purifying the emotions.
Botswana Agate

Botswana Agate -
enhances creativity and helps you to release the emotional nuances that have been repressed; it also allows you to look toward the solution, rather then dwell the problem. It stimulates the crown chakra and energizes the auric body.
Coral
Coral - is a powerful natural healing stone; it quiets your emotions, eases emotional stress and brings inner peace.  Coral facilitates intuition, imagination and visualization; it opens and activates your base chakra, energizing your physical body. Coral is a great protective stone. In Italy woman ware coral to protect from any form of dense energy that could be sent to them. 

Cluster of Crystals
Cluster of Crystals - is very large crystal with many long or short points emerging, each of which can be programmed for a specific purpose. A cluster brings peaceful harmony to a group and is extremely useful for generating healing energy. Clusters are especially useful for cleansing a room or other crystals. 

Clinochlore
Clinochlore - has a lovely spiritual energy that helps your search for spiritual enlightenment, and will assist you with self-healing.It can bring you into connection with beings in the angelic realm and may help you to make contact with the Divine Feminine; it has impressive healing attributes for both physical and emotional healing.
Cinnabar
Cinnabar - is a stone of transformation, of magic, alchemy and healing. It aids enhanced communication and inspired thinking, and aligns all your chakras. The energy of Cinnabar brings an increase of wealth into your business.
Chrysoprase
Chrysoprase - is an apple green type of chalcedony and is useful for balancing the yin-yang energy and for aligning the chakras with the spiritual plane. It instills a state of grace, facilitating deep meditative states and compassion; it heals subconscious patterns and brings harmony, balance and joy.

Celestite
Celestite - takes you into the infinite peace of the angelic realms. It promotes purity of your heart and attracts good fortune; has a calming effect and gives you mental clarity. Celestite urges you toward enlightenment.
Cavansite
Cavansite - is an excellent stone for psychic healing and provides protection against illness. It inspires the conception of new ideas, and assists in the removal of negative thoughts and beliefs. Brings optimism and inspiration, and opens you 3rd eye.

Cat's Eye
Cat's Eye - color range is endless but always represents a cat's eye. The structure of this mineral represents happiness and serenity; it can also amplify your "luck". Cat's Eye can act to stimulate intuition and to enhance awareness, and is a powerful protecting stone.

Cathedral Crystals
Cathedral Crystals - can raise your energy to a higher vibration; a Cathedral crystal holds records and appears to be composed of several convoluted or separate pieces that are all part of the main crystal. It helps you to attune to the universal mind and acts as a receptor and transmitter.
Cacoxenite
Cacoxenite - is believed to raise the spiritual awareness of the human race. Within Quartz, Cacoxenite is more active and expands your consciousness to connect to Spirit whenever there is a need or desire. A highly spiritual stone.
Carnelian
Carnelian - 
is a mineral that sharpens your concentration and stimulates your creativity.  It is a stone of motivation and endurance, leadership and courage. This stone empowers your self-confidence in all aspects of your life, from relationships and professional pursuits to personal projects.
Chalcedony
Chalcedony - is useful for balancing the energy of the body, mind, emotion, and spirit. It symbolizes benevolence and good will and it alleviates emotional irritability and melancholy. It increases mental stability and is able to balance the brain chemistry.
Calcite
Calcite - is an excellent stone when studying the arts and sciences. It assists in bringing about that unique combination of mental clarity, focused energy and grounding necessary to successfully complete complex task or long term projects; it accelerates spiritual development. Calcite is a balancing agent for the assimilation of calcium within the body. Cannot put into water, as it will dissolve!


Disclaimer: Some stones are known to change color over time. This can happen after a long exposure to the sun; we advise you not to expose the stone under the sun for a long period of time. The other reason that a stone can fade or change colour is after intense usage of it's energetic properties. When you use the stone for a specific issue, it's possible that the stone has done its job and that both you and the stone are ready to move to the next phase in life. We suggest to offer the stone to the elements (ocean, sea, river, under the ground)
Cuttlefish Bone Silver Cast


Cuttlefish Bone Silver Cast - 
is a 12
th
 century technique from Venice Italy, Anna's home town, of casting called "osso di seppia". The Cuttlefish bone is used as a cast for Silver and creates a unique pattern for each piece. This process is performed by an Italian artisan who holds the knowledge of this ancient art technique, here in Bali. Anna is very proud to be able to keep going, this old traditional technique. 
Copper
Copper - is a strong conductor of energy; it enhances the energy of any stone. Copper can strengthen the blood system.. Copper is the most powerful metal to use in healing the physical body and strengthening all its levels and patterns. It teaches the way of balance and respect for the earth and its beings.
Citrine
Citrine - balances your emotions and makes your mood sunny and cheerful; it brings fortune and prosperity, and actually helps you to maintain a state of wealth, and draw abundance through joy. Citrine is the stone of "success".

Disclaimer: Some stones are known to change color over time. This can happen after a long exposure to the sun; we advise you not to expose the stone under the sun for a long period of time. The other reason that a stone can fade or change colour is after intense usage of it's energetic properties. When you use the stone for a specific issue, it's possible that the stone has done its job and that both you and the stone are ready to move to the next phase in life. We suggest to offer the stone to the elements (ocean, sea, river, under the ground).
Chrysocolla
Chrysocolla - revitalizes and calms the base, navel and solar plexus chakras; it promotes harmony by helping to release stress. At the heart level it can help you to ease emotional heartache and to give renewed strength and balance; it increases your capacity to love.
Charoite
Charoite - provides for transmutation of negativity and for grounding your spiritual self. It can be useful in cleansing the auric body, filling the chakras with the loving spiritual emotion of purity. It awakens your analytical abilities and precision. Wear charoite to release limited beliefs and old patterns, to create your reality with divine assistance.
Dzi Beads


Dzi Beads - also called "Tibetan Beads" or "Chinese Heaven's Pearls", are the most potent amulets. Believed to provide positive spiritual benefits, they are strongly connected to protection. Being in the presence of Dzi constantly, one can clear past karma, receive blessings, guard against evil, improve vitality and increase wealth.

Dumortierite


Dumortierite - This crystal is very stimulating to your brain and brings enhanced intellectual abilities as it assists with all mental skills. It is a powerful stone to amplify many psychic gifts as well as it is highly stimulating to the pineal gland located behind the third eye. Dumortierite is a stone that teaches you to stand up for yourself; it will help you to take control of your own life and increase your level of patience. Dumortierite is a highly useful aid for anyone who is studying, as it assists the retention of information, as well as enhancing your will power, and capacity for self-mastery.
Double Termination


Double Termination - A double-terminated crystal has two points on each side. They can be naturally or artificially shaped. Through these two points energy can radiate or absorb it in two different directions at once or function as a bridge between two energy points. It is a useful tool during crystal healing because of its characteristics to break old patterns.

Dioptase


Dioptase - is a powerful healer of the heart, facilitates spiritual attunement and promotes living in the present moment. It supports a positive attitude of life and indicates your direction on your life path. It is a strong mental and emotional cleanser and detoxifier.

Diopside

Diopside - is a stone of service; it teaches you humility, increases your compassion and enhances your ability to 'sense' things. Diopside is a healer for psychological conditions, and teaches you the value of trust and forgiveness; it is helpful for creative pursuits or academic study as it stimulates intellectual faculties.
Diamond Slice


Diamond Slice - is a thinly sliced section of raw diamond that shows interesting patterns while keeping the stone's original outline. The slice shows the organic beauty of the stone, in its amorphous shapes.
Diamond Window


Diamond Window - is a flat face at the top of the crystal, which facilitates clarity of your mind. It encourages deep connection with yourself, and balance between the spiritual and material world; to live in everyday reality while at the same time being connected to a greater purpose.
Diamond


Diamond - is known as "the king of crystals", symbolizing the central "sun" of the solar system; a force which maintains itself as a perfect state. It is the "stone of innocence', bringing forth purity and constancy. The diamond helps to manifest abundance in all areas of your life; it signifies courage, bonding and commitment in relationships.
Dendritic Quartz
Dendritic Quartz- facilitates closeness with nature and a connection to the mother earth. It can be used to activate your chakras and to facilitate purity in the connection to the higher self. It brings fullness and abundance to all areas of your life, creates a peaceful environment, and encourages the enjoyment of each moment.
Demantoide
Demantoide -is a green and rare variety of Garnet; it is a stone of regeneration, vitality, and order. It energizes while stabilizes the chaos whether internal or external. Demantoide connects you with your heart chakra; it is used to balance, purify, align and remove dense energy. It enhances creativity and understanding, bringing success in business.
Eudialite

Eudialite - can enhance your psychic abilities, especially clairaudience. Eudialite is a healer of the heart; it can be used to extract old wounds and remove heaviness from the heart chakra. Eudialite opens all chakras and facilitates the movement of Kundalini energy.
Euclase

Euclase - is a stone of inner clarity and inner strength; it enhances integrity and shines a light upon all that is out of alignment with your true way of being. It protects you from dishonest claims of others and helps you clear the air of hidden agendas. Euclase purifies your heart and throat chakras, promoting truth and compassion.
Emerald

Emerald - is a stone of inspiration and infinite patience. It brings domestic bliss, loyalty in love and promotes friendship. The emerald can be used to open, activate and stimulate the heart chakra, and helps to quiet your emotions; it is a stone to bring harmony to all areas of life. Emerald is a wisdom stone that strengthens your memory and imparts mental clarity.

Elephant Hair


Elephant Hair - symbolize protection  a nature which represent spirits and forces. In Africa, these exceptional bracelets are known existing from over 1500 years ago. Elephants symbolize power and strength for their enormous energy, as well as symbol of beauty and harmony for their distinctive nature. In addition, elephants are also admired for their durable stamina, cooperative spirit, long life, and profound loyalty. The most important elephant hair bracelet meaning is that it will give luck to the person who wears it. Furthermore, this jewelry is believed to bring love, prosperity, and big progress.
Elestial Quartz

Elestial Quartz- rapidly expands your spiritual evolution stabilizing energy shifts. Opens door ways to inter dimensions, a powerful catalyst, the crystal provides equilibrium during rapid changes attuning you in each moment. The finest transmitter of negative energy Smokey Elestial grounds grids into everyday reality and anchors healings to earth. It pulls dense energy out of the environment, transmutes it and protects the area. (Anna's private Elestial at the shop in this picture).
Egg Shape
Egg shape - Crystal eggs are symbolic of  love, creativity, abundance and happiness to families. The egg can be used to  shield and strengthen your aura, and supports you in new beginnings.

Ebony

Ebony - is a type of wood. Ebony wood is protective and so is used in making amulets. Historically, this wood was used in the handles of Samurai swords. This wood would be especially useful in the seeking of spiritual knowledge and exploring intuition and emotion. It enhances power to change, positive luck, balance of energy, breaks down social barriers.
Eye Agate
Eye Agate -
are eye-like patterns carved of natural Agate. They are used as charms against the evil eyes, envy, and protection from unwelcome spirits. This stone is a useful receptacle for dense energy and toxicity, excellent for gridding around your house, and to wear as a protective amulet in challenging times. Eye Agate is also an excellent stone to deepen your meditation. It comes from the family of the Dzi beads, which are very rare and special. In 
Tibet,
 the bead is considered to provide positive spiritual benefits.
The image of the eye has always been a very powerful symbol in all ancient cultures, the eye being vigilant, all-seeing and protective.
Fuchsite

Fuchsite - helps us to understand issues concerning your daily lives such as stress, physical health, routines, career and environment. Fuchsite teaches you true self-worth and helps to overcome codependency. Fuchsite aids in a speedy recovery from trauma, both emotionally and physically.
Fluorite
Fluorite - is a powerful crystal to invigorate your intellect, and is excellent for learning and study; it is extremely effective against computer and electric devices. This stone can overcome chaos and draws off any dense energy and stress of all kinds. It is a potent stone that brings you strong protection from exterior energies.
Fluorite Green

Fluorite Green - can bring a cleansing, tidying, mint-like freshness of springtime and renewal to your chakras. It can also be used to help diminish mild trauma in the emotional body and to eliminate any dense energy  from within a room. (this Bowl is of a very high quality, carved from 1 piece of Fluorite, a collector piece only available at our shop).
Fluorite Blue


Fluorite Blue - invokes spiritual awakening and clear communication.
Fluorite Yellow


Fluorite Yellow - enhances your creativity and helps to release physical toxins.
Fluorite Purple

Fluorite Purple - is a powerful meditation stone and opens your 3rd eye.        
Faden Quartz

Faden quartz - is a variety of Quartz crystal. Faden quartz is one of the premier healing stones of the Quartz family. Perhaps because the stones themselves were 'injured' (broken and re-healed) during their growth process, they carry the pattern of healing very strongly within their natural programing. Most users will find these stones to be of a singularly high energy, ideal for consciousness expansion and accessing any of the higher vibrational planes, ideal tools for those who seek information on current and future physical and vibrational shifts of the Earth.
Flower of Life
Flower of Life -
Represent patterns of creation as they emerged from the beginning of time. This symbol is found in many ancient wisdoms and sacred sights all over the world. The flower of life contains a sacred shape that consists of 13 spheres that hold many mathematical and geometrical laws. Giving the flower of life to someone is like giving the whole universe in one jewel.

Garnet - Spessartine/Spessartite
Garnet - Spessartine/Spessartite
- is a variety of garnet. When you are attracted to this stone, it is an indication that your consciousness is ready to both absorb and assimilate the higher levels of your inner dynamics, growth and structural balance.
Garnet Black
Garnet black called Melanite
- is a powerful grounding stone; it helps you to continually move forward, adjusting and shifting your energy in harmony with mother earth. It is a vigorous stone to intensify your creative energies and it also has a vibration that stimulates you to feel more positive about life. Melanite is often called the male-focus garnet; it's good for men whose feelings are locked. It is the stone of the psyche, a mirror to your inner self and connects you to your own power and inner wisdom.
Gypsum

Gypsum - helps you to get out of a rut and brings you back into life; it releases emotional tension, clears physical toxins, and provides you with spiritual insight. Gypsum is considered a "lucky stone".
Green Quartz

Green Quartz - has a healing effect on the the heart, promotes compassion, tenderness and patience; it brings you balance and "Joie de vivre". It transmute dense energies and opens to empathy and universal love for others.
Graphite

Graphite - is a "stone of personal freedom"; it assists you in improving your conversational skills, and to take command of your life. Graphite assists you in aligning all your Chakras, and helps reduce dense emotions.
Grape Agate Sulawesi
Grape Agate Sulawesi - This is one of a the few stones that we have from Indonesian mines, at it's row form, just recently discovered in Indonesia, the Grape Agate is composed of small botryoidal purple Chalcedony. Grape Agate promotes inner stability, composure, maturity and encourage security and self-confidence. The beautiful grape agate carries the energy of spiritual wisdom and growth. It offers many answers with its tiny pieces and is the key to unlocking the answers to all you seek. 
Granite

Granite - enables you to see the big picture and defeats negativity with ease. Granite is a "stone of protection" with sacred and magical qualities, and can be used in the treatment of disorders associated with the hair, face, and head. Granite is also a stone of abundance as it assists with bringing an increase flow of money to the user.
Gold

Gold - Symbolizes the purity of the spiritual aspect of 'All That Is". It attracts honors, wealth and happiness, stabilizes your emotional system, alleviates tension and stress, and amplifies positive feelings. Gold is also called the "master healer".
Geode

Geode - is configured in the form of a closed shell with many crystals pointing in ward; it holds and amplifies energy within themselves due to their round cave like shape. They are useful for protection and aids your spiritual growth.
Garden Quartz
Garden Quartz - is a gorgeous stone of included quartz (Lodolite). The stone stimulates the creative mind, sharpens your awareness of your Destiny & life path, and encourages your inner dreamer. Garden Quartz is the stone of fairy tale dreams as it often inspires you to pursue your heart's desires and find greater happiness in your life. The gemstone is perfect to work with if you feel you need a change in your life, if you need to find a new direction, and if you want to embark on a new quest in your love life, personal life, or career. Garden Quartz attracts positive energy and filters density away from you through its natural inclusions. This is a highly resonating gemstone as it vibrates within the Crown Chakra strongest and downward. If you want a stone that enlightens you mind, body and spirit you will find this is the perfect stimulation to encourage your fairy tale dreams.
Galena

Galena - is a transformation stone; it is effective when embarking on a personal spiritual journey, and is sometimes used in past life regression therapy as a guide to inner vision; it can assist you in facing and overcoming your deepest fears. Galena can clear the bad effects of radiation, electromagnetic pollution and long hours in front of the computer; it has been used in crystal healing to fight inflammation and recover from addictions.
Garnet Green
Garnet Green - is a rare stone and comes in the color pale to emerald green; a stone from Kenya, this gem-grade Garnet is a stone of wealth in all its positive aspects-financial, creative, emotional, artistic, and even physical well being. Attuned to the pure green ray, green Garnet is considered equally beautiful and powerful as the Emerald; it can open and cleanse your heart chakra, increasing zest and vitality, and induces feelings of clarity and benevolence. The vibrational pattern of this stone creates confidence and motivation to get down to business and make things happen. Green Garnet is used for manifestation and both physical and spiritual abundance.

Garnet
Garnet -
extracts dense energy from your chakras, and transmuting the energy to a beneficial state. It is a "stone of commitment" to purpose, to others and to yourself. The loving powers of garnet tend to reflect the attributes of devotion, bringing the love of others to expression of warmth and understanding. Excellent grounding stone and assists in protecting. Useful Crystals to have in a crisis, particularly helpful in situations where there seems to be no way out. Crisis is turned into challenge under Garnet's influent.
Ganesh
Ganesh -
 remover of obstacles. Wearing or keeping a Ganesh helps to remove obstacles but also, he can put obstacles in your way to prevent you from going down the wrong path. Ganesh is the Deity of the instinctive mind, the intellectual mind, science and knowledge. He organizes and clears your mind. Ganesh is also the giver of success and is associated with general abundance in life. He is able to assist in our day-to-day life concerns.
Green Onyx
Green Onyx -
 is good for transmutation; it helps you with the emotion of acceptance and physical endurance. It can also be used to alleviate distractions and provide you with intensified concentration. Green onyx opens your heart chakra, and encourages happiness and good fortune. It helps you to become the master of your own future.
Green Tourmalinated Quartz
Green Tourmalinated Quartz -
 has a healing effect on the the heart chakra, promotes compassion, tenderness and patience; it brings you balance and "Joie de vivre". It transmute dense energies and opens to empathy and universal love for others.
Hypersthenes


Hypersthenes - is an excellent problem solver and can be used to stimulate finding solutions and finding answers to problems. It can combat irritability and hopelessness. Hypersthenes is good stone to help maintain your business and personal relationships.
Hunab Ku

Ancient  Mayan Symbol Hunab ku - is also called "Galactic Butterfly", The Hunab Ku is an ancient Mayan symbol that represents the Supreme God or the One Being. It is a symbol for unity, balance, and wholeness. It symbolizes the center of the universe and the collective knowledge of all life, past, present and future. It encompasses all opposites in the universe and unites them as one: male and female, dark and light, yin and yang, conscious and unconscious, internal and external.

Honey Quartz

Honey Quartz - Symbolizes communication, inspiration, protection, confidence, happiness visualization and travel. Aids in problems with digestion, the nervous system, skin problems and breathing disorders.
 

Hemimorphite

Hemimorphite - is a stone that helps you attain a positive self-image, build self-esteem and gain self-respect. It assists you in personal growth on all levels, and helps you evolve and transform. Hemimorphite is a stone that bring you joy and creativity.
Herkimer Diamond
Herkimer Diamond -
is a very special double terminated crystal. The Herkimer diamond is known as the attunement stone, and the energy of the Herkimer helps you to begin again in this lifetime. The Herkimer induces joy, inspires independence and improves any type of relationship. It enhances your dream state, helps balances polarities, and increases your energy. It can be used to attune yourself with another person, environment or activity.
Heart Chakra Star
Heart Chakra Star -
 is also known as a stellated cube octahedron; its frequency resonates with the heart chakras. It protects against electric emissions.
Hassonite
Hassonite -
 creates clarity of mind, and helps in your spiritual growth; it opens your intuition and psychic abilities and imparts self-respect. It helps people that are healers, therapists, and those who are dedicated to service.
Hematite

Hematite -
can be called a "stone for the mind", and can be used for mental attunement, memory enhancement, original thinking, and technical knowledge. It boosts self-esteem and imparts self-confidence. It also attracts "kind" love.

Ivory


Ivory in Fossilized - form comes from mammoths of the ice age; it represents purity and promotes vitality towards rightness in purpose and direction. It dissipates restlessness, anxiety and moodiness. Can treat bone disorders.
Imperial Topaz

Imperial Topaz - is sometimes called "precious topaz"; it acts like a battery and recharges you spiritually and physically, and reminds you of your divine origin. It is used to encourage self-realization and confidence. Imperial Topaz can banish bad dreams and protect you against envy and illness; it strengthens your solar plexus.
Iolite
Iolite -
 is one of the major stones to use in the third-eye/crown chakra during healing, guided meditation and astral travel. It activates your visionary, creative side of the mind, and provides access to thoughts and ideas beyond the ordinary; it inspires creative self-expression through writing, song, movement and other artistic endeavors.

Judi's Jasper

Judi's Jasper contains raw, dynamic energy that encourages balance, strength and peace. It reprograms any sense of loss, and replaces negative energies with a sense of abundance. Judy's Jasper can relieve stress, and promotes natural detox of the mind. A fascinating ability of Judy's Jasper is its ability to ward off sickness, and to fight against disease.
Jet

Jet - is a purifier of energy and vibration; it protects you on many levels. It is also used for clairvoyance, past life work, and psychic work in general; it cleanses the vibration of the information coming in. Jet is used for spiritual quests, spiritual advancement, and assist you in opening your awakening and the rise of your Kundalini energy. Jet has a very calming energy.
Jasper Red

Jasper Red - is a mineral is known as the "supreme nurturer"; it acts as a reminder that you are here to bring joy and substance to others. It sustains and supports you through times of imbalance, and brings tranquility and wholeness to your life. Jasper provides you with protection absorbs unwanted energy, and re-energizes your being.
Jade
Jade -
 is known as a 'dream stone", bringing realization to your potential and devotion to your purpose. It also provides confidence, assisting you in the attainment of self-assuredness, self-reliance and self-sufficiency. Jade is highly protective, and attracts good luck and friendship.
Kyanite Black
Kyanite Black - is a grounding crystal, which both opens and aligns all your chakras, and balances yin yang energies. It is a balancing crystal that is beneficial for space clearing, energetic protection and stimulates psychic development. Very Powerful!
Kyanite Blue
Kyanite Blue -
 is one of the minerals in the kingdom that never needs cleaning; it will not accumulate or retain dense energy or vibrations. Kyanite aligns the chakras automatically and immediately; it brings tranquility and a calming effect to your whole being. It stimulates communication and psychic awareness on all levels, and assists in dispelling confusion arising from emotional, spiritual and intellectual issues.
Kwan Yin
Kwan Yin -

 
The Goddess of Mercy, Kwan Yin, invokes the feeling of unconditional love and compassion. Being the "mother" Goddess, she is connected to the ill and especially children and babies. She has a connection with the care of souls, both during birth and after death.
Kunzite
Kunzite -
synthesizes your energy to produce loving thoughts and loving communication. Simply holding this stone produces the feeling of deep peace, gently penetrating your inner core of your being. It connects one to the infinite source of love, providing for purification on all levels. Kunzite can be used to remove obstacles from your path and eliminates energy blockages.

Disclaimer: Some stones are known to change color over time. This can happen after a long exposure to the sun; we advise you not to expose the stone under the sun for a long period of time. The other reason that a stone can fade or change colour is after intense usage of it's energetic properties. When you use the stone for a specific issue, it's possible that the stone has done its job and that both you and the stone are ready to move to the next phase in life. We suggest to offer the stone to the elements (ocean, sea, river, under the ground).

Lepidolite

Lepidolite - is a stone for emotional peace and balance. Connected to the element of the water brings harmony and heals the heart, it allows serenity and purification. Its gentle energy seems to take a soft hand and wipe away much if not all dense energy. It opens the crown chakra, clearing blockages and bringing cosmic awareness.  Lepidolite facilitates astral travel and accesses the Akashic Record.  It helps to take you forward into the future, tuning you in to thoughts and feelings from other lives that are creating a blockage in your life now.
Lemurian Quartz

Lemurian Quartz - was an ancient civilization which existed prior to and during the time of Atlantis. Lemurian Quartz hold a blessing of unconditional love and guide through a vibrational shift, they are crystal for personal evolution and karmic cleansers. They work by freeing from the past and taking ascension to the next step. A Lemurian quartz pushes you to reach your full potential and grow gracefully.

Lemon Jade

Lemon Jade - is energetic and stimulating, brings joy and happiness. It teaches the interconnectedness of all beings. 
Laser Quartz


Laser Quartz - (also known as Laser Wands) is a form of Clear Quartz that is long and slender, wider at the base and tapering to the point. It is a high-vibration crystal that is used in healing, especially for relieving discomfort. Clear Quartz is known as the stone of power and amplifies any energy or intention.
Larimar

Larimar - radiates love and peace and promotes tranquility; it is a stone for attracting love and assist in taking control of your life. Larimar is helpful through periods of change; it brings serenity and clarity. Larimar protects you while healing your emotions, bringing you to a joyful childlike energy.  It is an amazing stone to restore your contact with nature. 
Lemon Quartz
Lemon Quartz - is one of the few minerals on the planet that does not hold any bad energy, but dissipates it. It has been called "the merchant's" stone as it assists you in producing income and can be quite helpful in problem solving. It cleanses vibrations in the atmosphere and helps personal clarity; it clears your solar plexus and your heart. Lemon Quartz stimulates both mental focus and endurance.
The Left Eye of Horus
The left eye of Horus - is a symbol with royal power that was initiated at the Egyptian Mystery School. The Left Eye of Horus serves you to ensure safety, good health, and provides you with wisdom and prosperity. It is called the "al-seeing eye"; the left eye manifests the female qualities as intuition, emotions, beauty and  nurturance.
Lapis Lazuli
Lapis Lazuli -
 comes from Afghanistan and is a symbol of the night sky bedecked with stars. It is the stone of total awareness, brings joy, and enhances a state of peace. Lapis lazuli brings great power to you if your intentions are sincere; it strengthens your psychic awareness, induces courage, protects, purifies, calms &  improves emotional clarity and wisdom. It also attracts spiritual love, fidelity and is used on your 3rd eye chakra meditation.

Labradorite
Labradorite -
 represents the "temple of stars", assisting you in sustaining, maintaining and understanding of your chosen destiny. It helps to reflect and facilitate beneficial transformations, enhance patience and brings you an inner knowing of "the right time". Labradorite stimulates mental activity.
Moonstone Rainbow

Moonstone Rainbow - As the moon cycles connect us to nature, the moonstone also reminds us that our lives also ebb and flow. Moonstone cultivates compassion and empathy. The serene and tranquil energy of the moonstone also invites creativity and motherly protection. It also acts like a mirror so we can see clearly our reflection.
Moonstone Gray
Moonstone Gray - draws love, interpersonal relationships and healing for women. It's a stone useful to the clairvoyant and shaman, and in moving into unseen realms. It is called the "New Moon Stone" and carries the mysteries and powers of the new moon, where all things exist as potential.

Muscovite

Muscovite - stimulates and balances the third eye and crown chakras and is an excellent crystal for stimulating the intellect. Muscovite is useful for people who are open to psychic energies, stimulate confidence and ease tension.
Moss Agate

Moss Agate - leads you toward the characteristics of agreeability, persuasiveness, strength in all endeavors, and efficiency in all pursuits. It helps you to improve your ego and self-esteem, providing for emotional balancing and strengthening of your positive personality traits.
Mookaite

Mookaite - is an Australian Jasper with earthy autumn colors of red and yellow. It's a strong and invigorating stone, increases life force within the physical body and carries a vital energy. Mookaite is an Aboriginal Mother Earth stone; it is a good stone to help you connect to the electromagnetic energy of the Earth. Mookaite promotes an ageless spirit willing to accept change and seek new experiences; it awakens your natural instincts in making the right decisions for you.
Mica

Mica - is a mystical stone with a strong angelic connection; it stimulates awareness of the higher self, moves your heart chakra and opens your intuition. It creates loving energy and gentle acceptance of "what is." It's a reflective stone, allowing you to recognize your projections onto the world.
Marcasite

Marcasite - is silver metallic that unblocks barriers to your spiritual development; it deepens your meditation and provides prosperity to your spirit.  Marcasite enhances intelligence, aids your memory and increases your energy levels. It stimulates your senses, softens your expression and brings patience to your communication. It is a powerful healing stone.

Mangano Calcite


Mangano Calcite - is a heart crystal in contact with the angelic realm. A stone of forgiveness, it releases fear and grief that keep the heart trapped in the past, bringing in unconditional love. It aids self-worth and self-acceptance  and lifts unwanted emotions. This stone prevents nightmares. Pink calcite's loving energy gently dissolves resistance. 
Morganite

Morganite (Beryl) -
is an activator, cleanser and stimulator for the heart chakra; it helps you to bring love into your life and assists you in maintaining that love as it continues to grow and maintains it, It stimulates creativity in issues of self-control, assisting you to act from a space of love, creating space to enjoy  life and living.
Meteorite
Meteorite -
 is a rare treasure that traveled 4 million years through outer space before landing on earth. Meteorite is an embodiment of strength and supreme power; it enhances your potential and overall energies. Meteorite is a powerful medium for praying and making wishes; it can promote body Qi.
Malachite
Malachite -
 is a "stone of transformation", assisting you in changing situations; it clarifies emotions, which leads to spiritual evolution. Malachite helps you in the recognition and release of negative experiences. Malachite also represents fidelity in love and friendship.
Mala

Mala -
 is used for counting mantras, chants or prayers. Each time the mantra is repeated, the fingers move to the next bead. Usually there are 108 beads or a fraction of 108.
Moldavite
Moldavite -
 has extraterrestrial origins; it is formed when a giant meteorite struck the earth in what is now the Bohemian plateau of the Czech Republic. Moldavite has been used since the Stone Age as an amulet for good fortune, spiritual awakening, transformation and evolutionary growth. This stone takes you into the highest spiritual dimensions and accelerates your path of personal evolution. It has an extremely high vibration, which opens, clears and aligns the chakras. It resonates strongly with your crown chakra, opening it to receive the highest spiritual guidance.
Nephrite


Nephrite - is a form of Jade that is comprised of Jade and Actinolite. This mineral can enable you to balance your male and female energies and to harmonize dysfunctional relationships .You can use it as a talisman of protection to provide you with an invisible barrier against dense energy, and is very calming.
Opal Peru Pink

Opal Peru Pink - is a "stone for renewal", renewing the sacred relationship between yourself and all that is. It helps to guide you in the journey of your life; it promotes permanence in the connection between your conscious self and your inner knowing. It assists in helping you to release old patterns, gives you deeper insights into psychological issues, and cleanses your mind and your heart space.
Opal Peru Green

Opal Peru Green - is a greenish-blue Opal from Peru; it is great for stimulating your thoughts and communication skills.  You can use Opal Peru on the fifth chakra to voice your opinions in a clear fashion; it is all about freedom of speech. It is a very creative stone, especially for writers and those who need to get their thoughts down on paper.

Opal Boulder

Opal Boulder - (Australia) assists you in communication with spirit guides, angels, animal guides and deities.  Boulder Opal clears your blocked chakras; it strengthens and adds light into your aura.  It produces stability; especially good for those who have a problem staying in one place.  Boulder Opal is a spiritual stone and is a good stone to use in ceremonies, healings and prayers.
Opal Ethyopia

Opal Ethyopia - helps you to recognize and to feel your creativity; it provides you with inspiration and imagination to all situations. It strengthens your memory, instills faithfulness and loyalty with respect to love, personal afflictions and business relationships. It is the "stone of happy dreams and changes." Opal is an amplifier of energy and should be used with caution.
Om Mani Padme Om
Om Mani Padme Om - is an ancient Sanskrit Mantra, a powerful and blissful sacred prayer repeated for infinite time also by the Tibetan Monks.
Mantras are considered capable of creating transformation energy just by repeating them, writing them or "wearing" them and they are powerful for meditation. This special one is the embodiment of deep purification and compassion.
The syllables are the union of method and wisdom, and reflect the enlightenment of body and mind being purified for a higher state of consciousness and connection to the whole. The syllables means respectively OM Generosity, MA Ethics, NI Patience, PAD Diligence, ME Renunciation and OM Wisdom. (This Mala with Mantra at our shop).
Olivenite

Olivenite - crystallizes in the form of masses, grains and prismatic crystals. It helps with your understanding of the changes, which are occurring in your life. It cleanses your Solar Plexus and Heart Chakra, brings openness and acceptance in your intellectual pursuit, and clarity to matters of love and relationships. 
Obsidian Rainbow

Obsidian Rainbow - brings light and love into your life, allowing you to recognize the spiritual side of your nature. Rainbow obsidian is a "stone of pleasure", bringing gratitude and joy; it is especially good for the area of love and relationship. This stone needs to be cleaned anytime you realized you been true emotional issue! very powerful! (go on our  website, under Anna's  guidance for infos about cleaning).

Obsidian Blue

Obsidian Blue - is an excellent stone for stimulating your throat chakra, to enhance all kinds of communication skills, and in the comprehension of new languages. Blue Obsidian enhances telepathy.
Onyx
Onyx -
is good for transmutation, helps you with the emotion of acceptance, has a stabilizing effect on you, and helps you with physical endurance. Onyx relieves and removes energy blockages within your emotional and physical body. It's a "stone for peace and feel good".
Om
Om -
 symbolizes pure, all pervading light and consciousness. The "Om" symbol mirrors no less than the vibration of "all oneness with Creation". Before the beginning, the Brahman (absolute reality) was one and non-dual. It thought, "I am only one — may I become many". This caused a vibration, which eventually became the sound "OM". Creation itself was set in motion by the vibration of "OM". "OM" most likely symbolizes that you are ready to drive away all worldly thoughts and remove distractions, and infuse new vigor in your spirit body.
Obsidian
Obsidian -
 is a lustrous volcanic glass; it enhances the truth, which brings up old grief and emotions for clearing. It provides deep soul healing and can bring your core issue to the surface. Obsidian should be used with caution and must be cleansed often with clear running water. It provides a shield against dense energy, transforming bad vibrations within an environment; Black obsidian is an excellent stone for protection.
Pyromorphite

Pyromorphite - is a mineral that enhances the energies of other crystals and stones. It stimulates and increases success in your life, activates and stimulates your personal energy, attracts money and other objects of wealth, and can help you see the steps to take to achieve goals; it is called "the Victory Stone". Pyromorphite is a crystal that connects you with nature spirits, insects, trees, and animals; it fosters a soul connection to all life forms on the Earth.
Pyramid

Pyramids - amplify and then tightly focus energy through the apex and are suitable for holding manifestation programs. They can also be used to draw off dense energies and replenish the space with vibrant energies.

Platonic Solids

Platonic Solids - This beautiful kit contains a set of five Crystals shaped into the sacred geometric shapes know as the Five Platonic Solids. The Platonic Solids are the repeating geometric patterns that are the basic building blocks of life. These geometries are the "language" of creation, which exists at the foundation of all, Tetrahedron, Cube, Octahedron, Dodecahedron, Icosahedron (at our shop).
Pietersite

Pietersite - has the "keys to the kingdom of heaven"; it dispels illusions and assists you in the recognition of the beauty of your soul. Pietersite stimulates your pineal gland and your third eye, accessing your intuition and inner vision; it reminds you that you are a spiritual being on a human journey.

Pyrite
Pyrite -
 is a mineral that possesses a defending quality and is an excellent preventive that will shield you from many forms of dense energy. It is masculine in nature, a stone of action, vitality and will, and taps into your abilities and potential, stimulating the flow of new ideas. It brings you great confidence and the persistence to carry things through to completion.
The mineral iron Pyrite, also known as the "Fool's Gold", Is an iron sulfide. Pyrites metallic lustre and pale brass-yellow hues give it a superficial resemblance to gold, hence the well-known nickname of "Fool's Gold".
An interesting discovery was made by archaeologists excavating unusual ancient artifacts; they found more than 50 mirrors encrusted with the brilliant mineral Pyrite crafted in Mesoamerican style! Today, a mirror is a normal item of our daily life, but in the past, an item that could reflect an image was really expensive, and the techniques used to make them  with delicate flakes of pyrite glued to sandstone or other rock with adhesive likely made from tree resin hold the distinctive signs of Mesoamerican craftsmanship.
The use of mirrors in Mesoamerican culture was associated with the idea that they served as portals to a realm that could be seen but not interacted with. Mosaic pyrite mirrors were crafted across large parts of Mesoamerica in the Classic period, particularly at Teotihuacan and throughout the Maya region.
The Pyrite mirror artifacts served a number of uses from the deocaritive to the Divinatory.
Prehnite
Prehnite -
 multiplies energies and enhances your protective fields. It is a "stone for dreaming and remembering"; It advances your state of meditation and allow for "inner knowing" to prepare for situations in advance.
Peridot
Peridot - 
emits a warm and friendly energy; it releases your old patterns and activates your heart and solar plexus. Peridot motivates your growth and helps you to bring about change. It sharpens the mind and regulates the cycles of life. It is an excellent healing stone, acting as a "tonic".
Pendulum
Pendulum -
 are used to dialogue with your Higher Guidance; it serves as a biofeedback device. When relaxed and centered ask the pendulum to show you a "yes" and a "no" and establish the directions. When clear and in stillness you are ready to begin ask questions that can be answered with a "yes" and a "no".
Pearl
Pearl - 
signifies faith, charity and innocence; it enhances your personal integrity and helps to provide a focus to your attention. It also symbolizes purity and can stimulate that condition in your body and mind. The pearl is a "stone of sincerity".
Quartz Crystal Clear
Quartz Crystal Clear - is a power crystal that harmonizes and balances your aura; it enhances energy and thoughts, and purifies your spiritual, mental, and physical energies. It is also a powerfully protective stone, bringing the purified energy into your energy field. Clear quartz is associated with the crown chakra, and has the ability to amplify, transform, store, focus, and transfer energy.

Quartz Phantom
Quartz Phantom -
 is recognized by a phantom crystal within the crystal and is compromised by white or colored minerals. The Phantom Quartz symbolizes universal awareness. It is one of the Earth stones to be used for cleansing of the earth. It is an excellent energy source for initiations of the healing arts. Phantom quartz is a great tool for meditation and to connect with higher realms of knowledge.
Ruby


Ruby - is a "stone of nobility"; the energy of the Ruby is intense and vivid, it restores your vital life forces and increases your energy levels, stamina and strength. Ruby brings love, confidence, loyalty, and courage; it allows for the fire of passion and love to advance. It strengthens both your physical and emotional heart and is a good stone for removing blocked energies.
Red String

Red String - The red string is worn as a talisman that is charged with energies for protection. The color red stands for divinity, protection, bravery and good luck. In Chinese horoscope, if it is the the year of your sign, the red string can balance the challenges that your year can bring.
Rainbow Hematite


Rainbow Hematite - is a wonderful crystal for your aura and all your chakras. Its energies are grounding and so enlivening at the same time. Rainbow Hematite infuses you with the abundance of the universe; it brings to your awareness that your walk on Earth is a joyous gift. With Rainbow Hematite you may go forth and enjoy your life on our bountiful planet.
Rhodonite

Rhodonite - is an internal balancer; it can create a clear path to balance your male and female energy. Rhodonite is "a stone of love" and helps you to achieve your greatest potential; it harmonizes your heart chakra and supports acts of forgiveness. Rhodonite helps to build your self-confidence and self-esteem.
Rutilated Quartz
Rutilated Quartz -
 is also called angel hair and assists you in getting to the root of a problem; it brings joy and abundance, and promotes forgiveness at all levels. It opens your aura and helps with your spiritual progress. Rutilated Quartz soothes your emotions; it is the perfect crystal to draw off dense energy.
Rudraksha Beads
Rudraksha Beads -
 are sacred seeds used by the Hindu's for prayer and devotion. The seeds form naturally on the Rudraksha tree. Hindu mythology named these beads "The Tears of Lord Shiva".
Rose Quartz
Rose Quartz -
is a stone of unconditional love; it opens your heart chakra to all forms of love; self-love, family love, platonic love, and romantic love. Rose quartz has excellent protection energies. It also brings gentleness, forgiveness, and tolerance. Rose Quartz is perfect to place under your or your children's pillow while sleeping for a peaceful rest and lovely dreams.
Disclaimer: Some stones are known to change color over time. This can happen after a long exposure to the sun; we advise you not to expose the stone under the sun for a long period of time. The other reason that a stone can fade or change colour is after intense usage of it's energetic properties. When you use the stone for a specific issue, it's possible that the stone has done its job and that both you and the stone are ready to move to the next phase in life. We suggest to offer the stone to the elements (ocean, sea, river, under the ground).

Rhodochrosite
Rhodochrosite -
 is a "stone of love and balance"; it contains a pulsating electrical energy, which emits the strongest power in the universe, the power of love and self-love. It can be used to heal old grief and nurture relationships. Rhodochrosite attracts a soul mate to help surface old issues; it encourages you to have a positive attitude and creativity.
Sapphire
Sapphire -
 clears you of unwanted thoughts and brings you joy and peace of mind; it opens you to beauty and intuition. Sapphire is the wisdom stone, facilitates self-expression and stimulates your third eye; it brings prosperity and attracts gifts of all kind.
Sapphire Blue
Sapphire Blue - is a seeker after spiritual truth; it facilitates your self-expression and speaking your truth.
Sapphire Green
Sapphire Green - stimulates the heart chakra, bringing loyalty, fidelity and integrity.
Sapphire Pink
Sapphire Pink - is a fast acting stone teaching you to master emotions.

Sapphire Purple
Sapphire Purple- activates your pineal gland and opens your crown chakra.
Sapphire Star
Sapphire Star - has a five-pointed star in it. It expands your intuition.
Sapphire Tundroo
Sapphire Tundroo - Rare and super sparkly Tundroo sapphires come from the Tunduru region of Tanzania; they range in color from deep garnet red, to purple, to plum, to orange to olive green, and to golden yellow. Sapphire is a stone of protection and prophetic wisdom, a wondrous crystal that can watch over human destiny. It is believed to promote joy, faith, hope and protection during long journeys, and brings light and peace and opens the mind toward beauty and intuitive understanding. Sapphires, especially Tundroo, due to its multiple fancy color range can maintain your hope for your deepest desires and dreams to be fulfilled. Sapphires are said to restore balance within the body, aligning the physical, mental and spiritual planes, bringing serenity and peace of mind.
Sapphire Yellow
Sapphire Yellow -
attracts wealth into the home.
Sugilite


Sugilite - brings about the realization of the connection between the well being of your body and your mind; it brings you light and love into the darkest situation. It encourages positive thoughts and promotes self-forgiveness. Sugilite is a "love stone for this age", representing the perfection of spiritual love.
Shungite

Shungite - is an ancient mineral that forms in the Earth's crust; it is around 2 billion years old and predominantly found in the Karelia region of Russia. Shungite is a very potent anti-oxidant, and is a powerful stone to shield you from the electro-magnetic radiation given off by electrical equipment, including computers, mobile phones, microwaves and televisions. Shungite can be used as an elixir to purify drinking water. Meditate with this stone to connect deeply with the Earth.
Staurolite


Staurolite - has a calming and relaxing energy, heart and mind. It has a soothing energy to help you feel centered and aid deep spiritual grounding. Carry this stone with you to strengthen the vibrations in your surrounding and positively influence the people around you as well. Also called the Fairy Cross, Staurolite has a resonance to communicate with beings from the natural world, it have a soothing calming energy. The energy of Staurolite acts on your third eye and crown chakras opening your "inner eye" allowing you to connect to the realms of "Nature's Spirits". 
Star Diopside

Star Diopside - is a stone of healing that has a refreshing energy; it can help you heal in many ways emotionally, and in releasing your dense emotions. It is a stone of "Living in the Moment"; it helps you overcome past energies and find your joy in the current moment. Spiritually, Diopside is good for your physical alignment and spiritual attunement. Black Star Diopside is associated with the root chakra; it brings you calmness, confidence, and self-worth.
Sphere Shape

Sphere Shape - Balls are usually shaped from a larger piece of crystal and they emit energy in all direction equally. Used as a window to the past or future, they move energy through time and provide a glimpse of what is to come.
Soulmate Tantric Twin

Soulmate Tantric Twin - Soulmate crystal draws a Soulmate by your side in a union of energies; they are beneficial for every kind of relationship mother-daughter, father-son, employer and employee. They bring harmonious partnership. A tantric twin crystal teaches you to accept yourself and not project your unresolved issues onto your partner; it promotes interdependence and intimacy, helps unconditional love and brings greater harmony.
Skeleton Quartz

Skeleton Quartz - removes dense energy, and grounds spiritual energy into the physical body. Skeleton Quartz are used to assist in the mass cleansing, healing and reawakening that is currently facing us. The Skeleton Quartz is known to bring great comfort to those in a dying process.
Sillimanite

Sillimanite - is a "feel good" crystal.. Sillimanite raises your energy vibration and it brings loving thought processes (self-love). It supports your Spiritual Heart Chakra, Throat Chakra, and the intellectual body, allowing those three to work well together.

Shiva

Shiva - also known as Mahadeva "the great God" is one of the principal deities of Hinduism. He is the supreme being within Shaivism, one of the major traditions within contemporary Hinduism.
Seven Chakra String Bracelets
Seven Chakra String Bracelets
- Simplicity, clarity, and a single stone. This collection of 7 chakra bracelets is for those who value the minimalist art.  Each handpicked crystal relates to one of the seven chakras, and the high quality string radiates a vivid color. Choose the color that attracts you the most and embrace the attributes related to that chakra's energy.(in our Minimalist Collection).

Seven Chakra Stones


Seven Chakra Stones -  When you need a refreshing pick-me-up, find your center, or restore your energy from cell phones and laptops, step into your healing sanctuary and lay down flat in a comfortable position and place a chakra stone on each associated energy center. To cleanse and balance your chakras, simply breathe in positivity and exhale density.
Selenite

Selenite - brings you clarity of mind, and instills a deep spiritual peace; it opens your higher chakras, is excellent for mediation and healing work. Selenite placed in your house ensure peaceful atmosphere.

Scolecite
Scolecite - is a "Stone of Lightworkers". It is a very powerful high vibration crystal with the energy to awaken the heart and blend its energies with the higher chakras. Scolecite will help you in making a deeper spiritual connection. Another benefit of this crystal is how it can break through any stagnant energy to allow for the free-flowing of energies through the entire chakra system and aura (only at our shop).
Scepter

Scepter -
is a very special mineral that generates and amplifies energy; it makes an excellent meditation tool as well as a healing tool as it is effective in sending energy in a particular direction, and balances male and female energies. Scepter can connect you with ancient energies.

Sandstone

Sandstone - is a "stone of creativity"; it encourages truth and promotes clarity in your thoughts and sight. Sandstone offers your loving acceptance of humanity, and facilitates ease of movement and change.
South Sea Pearls


South Sea Pearls - or "Tahitian Pearls" are grown in the warm salt waters of Polynesia and Indonesia. They owe their life to the black-lipped oyster; they bring you good fortune, recognition and fame. It increases your self-confidence and balances your emotional life.

Smokey Quartz
Smokey Quartz -
The Smokey Quartz crystal is a grounding stone to help you move on from difficult or painful experiences providing strength and stability. Smokey Quartz can absorb dense energies and dissolve it. Wearing Smoky Quartz in the form of jewelry is a powerful way to connect with the stone's energy throughout the day.

Disclaimer: Some stones are known to change color over time. This can happen after a long exposure to the sun; we advise you not to expose the stone under the sun for a long period of time. The other reason that a stone can fade or change colour is after intense usage of it's energetic properties. When you use the stone for a specific issue, it's possible that the stone has done its job and that both you and the stone are ready to move to the next phase in life. We suggest to offer the stone to the elements (ocean, sea, river, under the ground).
Silver

Silver
- a major conductor and communicator; it helps your speech and public speaking eloquence. Silver enhances patience and perseverance, and has the ability to energize other stones during the new and full moon. It draws dense energy out from your body and replaces it with positive energy. Silver is the mirror of the soul.

Seed of life
Seed of life -
is the origin of all life, and is a symbol of blessing and protection passed on through generations; it contains the secret of the seven days of creation. The Seed of Life is a stage before the shape known as the Flower of life that produces the "Fruit of Life". You can wear it as a symbol of blessing and fertility.
Sea Bamboo


Sea Bamboo -

 
is a powerful natural healing stone from the sea; it quiets your emotions and brings you inner peace. White coral opens and clears your crown chakra and facilitates renewal. It is also a good stone to strengthen you  as it carries the sun's energy.
Sunstone

Sunstone -
brings luck and good fortune; it clears and energizes all your chakras. Sunstone instills good nature, heightens your intuition and allows your real self to shine through happily; it encourages independence and originality.
Spinel
Spinel -
is a beautiful crystal connected with your energy renewal, encouragement in difficult circumstances, and rejuvenation. Psychologically, spinel enhances positive aspects of your personality; it helps you in achieving and accepting success with humility. Black Spinel is protective and showers you with Earths energy to balance the rise of your Kundalini.
Sodalite
Sodalite -
brings order and calmness to your mind; it encourages rational thought, objectivity, truth and intuition, and verbalization of feelings. Sodalite brings emotional balance; it enhances self-esteem, self-acceptance and self-trust.
Tourmaline
Tourmaline - attracts inspiration, diminishes fear and encourages self-confidence; it provides direction and brings you insights. Tourmaline acts to clear, maintain and stimulate each of the energy centers of your body; it forms a protective shield around your body.
Tourmaline Black
Tourmaline Black - is a powerful protective and grounding stone; it is a centering and focusing stone and encourages a positive attitude to your life. Black tourmaline ground your root chakra and purify your energy body; it protects you against electromagnetic smog.

Tourmaline Blue
Tourmaline Blue - activates your throat and third eye chakra; it stimulates the urge for spiritual freedom and clarity of self-expression.
Tourmaline Green
Tourmaline Green - is an excellent healer; it opens your heart chakra, promotes compassion, tenderness, patience, and a sense of belonging. Green tourmaline encourages openness and patience; it rejuvenates and inspires your creativity, brings prosperity and abundance into your life. It facilitate the study of herbalism and has the power to heal plants.
Tourmaline Paraiba
Tourmaline Paraiba - is linked to the "Angel of Joy", and the "Angel of Aspiring Love". This rare mineral awakens your desire to support others who need help; it opens your heart to the Joy of Giving. It gives you strength, inspiration, perception and patience. Paraiba Tourmaline's unique task is placing angels by your side. Everything is possible; honor it with love.
Tourmaline Pink
Tourmaline Pink - speaks to your creativity, and conceiving the "new"; it actualizes love and promotes joy and peace during periods of growth and changes. It allows you to trust in the power of love.

Tourmaline Yellow
Tourmaline Yellow
- stimulates the solar plexus, enhancing your personal power and intellectual pursuits; it also relates to the cycles of life to assist with self- growth.

Tourmaline Watermelon
Tourmaline Watermelon
- is a "super activator" of the heart chakra; it promotes your inner security, is beneficial for love relationships and brings joy to situations.
Tiger's Eye
Tiger's Eye -
 is a stone of protection; it has the power to focus your mind, promoting mental clarity, assisting you to resolve problems objectively. Tiger Eye stabilizes your mood swings, boosts willpower, purpose, courage and self-confidence. Tiger eye brings you good luck, the favorite stone of the Dalai Lama. 
Tiger's Eye Blue
Tiger's Eye Blue - is calming and stimulates the throat chakra to give confidence in communication.
Tiger's Eye Red
Tiger's Eye Red - is a stimulating stone and promotes motivation.
Tsavorite


Tsavorite - is the "traveler's stone"; it brings you benevolence, vitality, prosperity, vigor, and compassion; it helps you to discover the beauty within yourself and in others. Tsavorite guides you to create and maintain your own destiny; it can help you meeting new people and recognize the blessings in your life. It is associated with your heart chakra and increases feelings of love, joy and compassion.
Tri Murti Strings

Tri Murti Strings -
are red, white and black.
Trimurti in Hinduism are the triad of the three Gods Brahma, Vishnu and Shiva. Brahma is responsible for the creation, upkeep and destruction of the world. Vishnu is the preserver of the Universe. Shiva is to destroy in order to re-create,in our beautiful Island of Bali, when we do any kind of Ceremony, we often receive the Tri Murti for protection.
Tree Of Life
Tree Of Life - is a spiritual symbol is well known and, like the tree itself, many branches and deeply rooted. The "Tree of Life" can be thought of as your own cosmic family tree, telling ancient stories of your shared roots which link you to the past, showing your connected struggles and aspirations; your desires to reach for the light. Trees may look the same, especially when they first begin – but they grow, thrive, change, are battered by storms and weather, become broken and, as they age, become very unique. This is a metaphysical spiritual process whereby you become your own unique self and therefore fit right into the niche where you are needed and meant to be. It is a part of your life's journey.
Tourmalinated Quartz


Tourmalinated Quartz - is an excellent protective stone, brings balance and inner strength; It turns bad thoughts into positive ones and is an effective problem solver. It harmonizes your meridians, your subtle bodies, and your chakras. This stone harmonizes disparate and opposite elements, turning negative thoughts into positive ones, heals the shadow energies.
Topaz
Topaz - is the 'stone of true love and success in all endeavors"; it promotes individuality and creativity, while providing for confidence in trusting your decisions. Topaz acts to replace shadow energy  with love and joyfulness; the energy of Topaz acts through the laws of attraction and manifestation. This mineral is the "crystal of potency".
Titanium

Titanium - exists in the Earth's crust and also has been found on the moon; it is known for its strength and lightness. Titanium covered quartz uplifts and energizes all the energy centers; strengthens our body, clarifies your mind, and brings harmony and joy into your life.
Tektite

Tektite - is a type of natural glass of meteoric origin; it balances the energy flow and is helpful for telepathy and clairvoyance. Tektite is a powerful talisman, healing old traumas and balancing male-female energy.  Tektite assists you in attaining knowledge, and learning lessons throughout the travels of life.

Tanzanite

Tanzanite - is a powerful mineral that stimulates your chakra throat, your third-eye chakra and your crown chakra; it is a "stone of magic', producing the perfect symmetry of personal power and actualization. Tanzanite helps you to manifest both the beginning and the end of your vision.

Talisman

Talisman - This powerful talisman pendant is excellent for times of transformation and new beginnings as well as for grounding and protection. The crystals help clear, purify, protect and bring harmony the mind.
Turquoise

Turquoise -
is an excellent stone for spiritual attainment, healing and cleansing both the energy centers and the physical body. Turquoise is a healer of your spirit, providing you with a soothing energy and bringing you peace of mind; it is a protective stone, dispelling any density and purifying your Soul.
Tibetan Mala

Tibetan -

 
malas are used for keeping count while reciting, chanting, or mentally repeating a mantra or prayer. The Tibetan mala has distinctive design features and carry a specific energy with the placements of the stones, Anna's been inspired from a Tibetan Mala given as a gift from an assistant of the Dalai Lama. 
Tasbih

Tasbih -

 
prayer bead is a rosary for Muslims; the 99 beads symbolize the 99 names of God in Islam. Sometimes only 33 beads are used; in this case Tasbih would be cycled 3 times to reach 99.